In 2010, Devi Vallabhaneni first developed the MBA IQ to create confidence in the MBA classroom. That was the MBA IQ 1.0 version, which over 5,000 MBA applicants successfully completed worldwide.
Now, we have built upon the initial success and released MBA IQ 2.0, which includes numerous mini business cases using companies in our current economy.
MBA IQ 2.0 acts as a comprehensive set of prerequisites used by business schools. It is particularly useful for:
non-business undergraduate majors
mid-career applicants as a business-refresher
foreign applicants
applicants who have never studied online
applicants who apply for a GMAT waiver
MBA IQ 2.0 is built upon the RealizeIt adaptive learning platform. Visit http://realizeitlearning.com/ to learn more.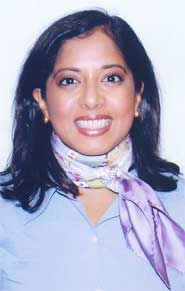 Devi Vallabhaneni
Devi's personal mission is to help MBA aspirants start their MBA with confidence in the classroom. She believes confidence in the classroom translates to a more impactful MBA experience, which ultimately leads to a more enriching post-MBA career. To her, a successful post-MBA career starts with confidence in the MBA classroom.
Confidence → Impactful MBA → Successful Post-MBA
In Classroom Experience Career
She graduated from University of Illinois at Urbana-Champaign with a major in Accountancy and High Honors and later earned her CPA. She earned her MBA from Harvard Business School. As an HBS Alum, she has always been involved with admissions, serving as an alumni interviewer in the 2000s. From 2013 to 2016, she was on the Harvard Business School Admissions Board where she helped with women's outreach, interviewed prospective candidates in Boston, London, and Paris, and worked on special projects for the Dean of Admissions. Now she is the HBS Interviewer In Residence at MBA Mission.
Her career started at Arthur Andersen in Chicago. She worked on a variety of consulting projects in numerous industries and client situations. She was selected to transfer to the Singapore and Hong Kong offices. Post-MBA, Devi worked for Gap, Inc. in international business development, evaluating new store locations in Hong Kong and Taiwan. She then moved to Gap Online, where she evaluated the financial, brand, and operational impact of working with the largest online companies at that time – AOL, Yahoo, etc.
Using her global business experience, Devi is committed to bringing out the best in MBA applicants.